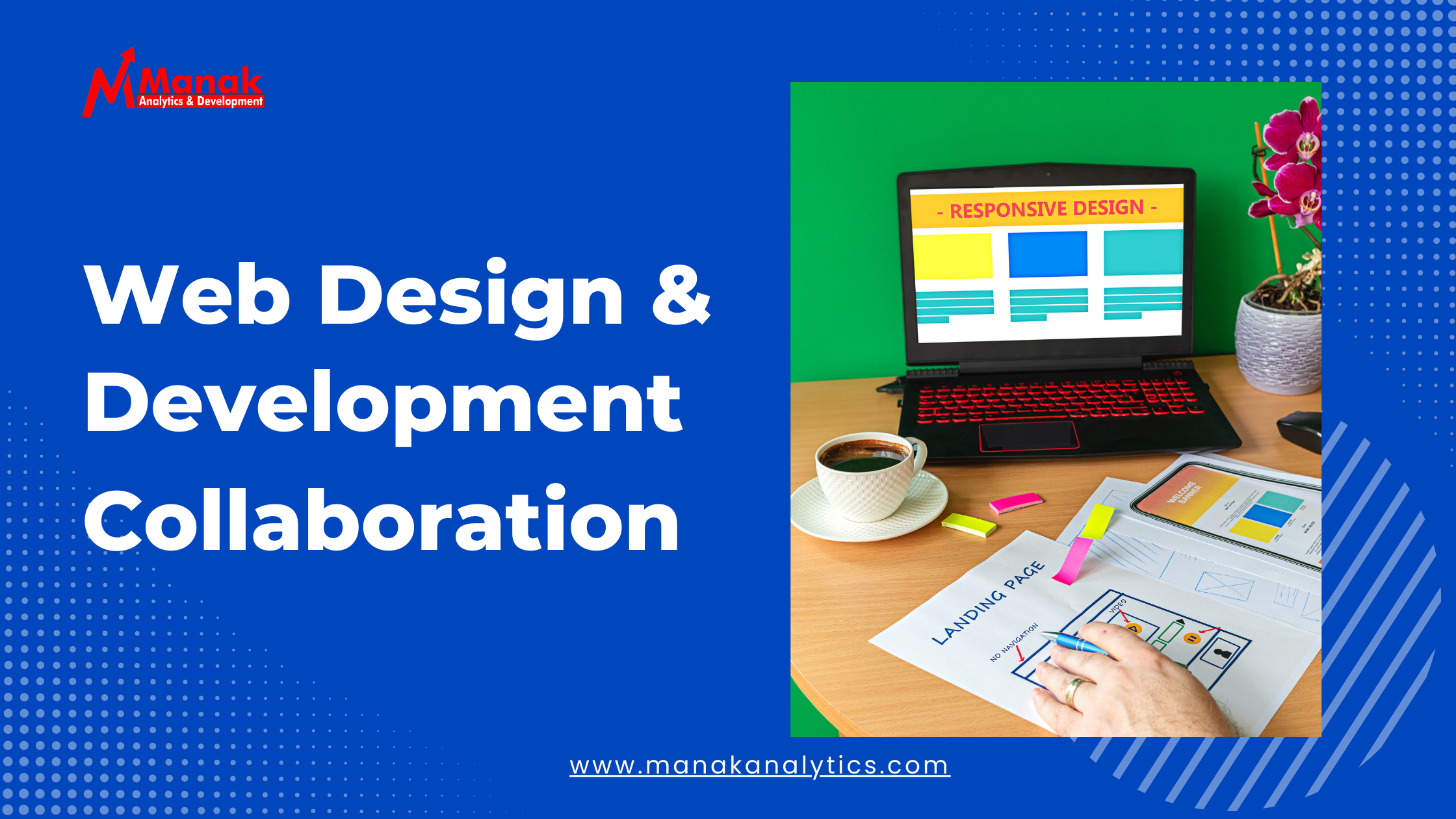 Web Design and Development Collaboration: Bridging The Gap For Success
The synergy between design and development has become the cornerstone of online success in today's interconnected digital landscape. "Bridging The Gap For Success" captures the core of this partnership, emphasizing its critical role in producing engaging, functional, and user-centric websites.
As technology continues to advance at an unprecedented rate, the barriers between design and development have blurred, ushering in a new paradigm in which seamless collaboration is not only advantageous but also required. This creative synthesis has the potential to transform ideas into immersive digital experiences by combining the aesthetic skill of design with the technological refinement of development.
What is web design & development?
Web design and development are the two pillars that support the digital landscape. Web design is an aesthetic and user-centered aspect that includes the meticulous arrangement of visual elements of, font choices, and user experience optimization. The face of a website is crafted by a combination of creativity and psychology, attracting users with compelling aesthetics and leading them intuitively through content. Web development, on the other hand, is the technical engine that drives this digital environment. It entails coding, scripting, and setting the complex machinery that runs behind the scenes to make the design functional and interactive.
Back-end development oversees databases, server operations, and dynamic functionality, whereas front-end development ensures that the design is consistent across devices and browsers. Web design and development work in partnership to build the online experiences we encounter on a daily basis, from informative websites to complex web applications, enriching the way we interact, learn, and engage in the virtual space.

Role of Web Design & Development in Business
Web design and development are critical components of modern corporate success, functioning as important components of a holistic digital strategy. In the following ways, web design and development contribute to a company's online presence, brand image, user engagement, and overall growth:
1. Brand Identity and First Impressions: A well-designed and professionally created website serves as a digital shop, and is frequently the initial point of contact between a user and a business. The design components, color schemes, and layout all work together to portray the identity, values, and credibility of the brand. The consistency of the website's design and the visual identity of the business builds trust and recognition.
2. User Experience (UX): How visitors engage with a website is influenced by web design. Visitors may easily navigate through the material thanks to a user-friendly and intuitive interface inspired by careful design. A pleasant user experience increases engagement, encourages longer visit durations, and increases conversion rates.
3. Responsiveness and Accessibility: Modern users browse websites via a variety of devices, ranging from cell phones to desktop computers. Responsive web design guarantees that a website adapts to different screen sizes and resolutions effortlessly, giving an optimal experience across platforms. This ease of access boosts user satisfaction and keeps potential clients from leaving owing to poor mobile experiences.
4. Conversion Rate Optimisation: Good site design takes into account user behavior and psychology. The design may substantially improve a website's ability to convert visitors into leads or customers by carefully putting calls-to-action (CTAs), optimizing landing pages, and streamlining the conversion process.
5. Search Engine Optimisation (SEO): A well-coded website with clear architecture makes it easier for search engine crawlers to index material. Furthermore, design features like site speed, mobile friendliness, and structured data have an impact on search engine rankings. These parameters are influenced by web development practices, which improve a website's visibility in search engine results.
6. Scalability and Performance: As a company grows, its website must accommodate more traffic, information, and functionality. Effective web development guarantees that the website can accommodate these changes without losing performance or user experience. Scalability is enhanced by good coding practices, database optimization, and caching methods.
7. E-commerce and Functionality: Web development is crucial for businesses participating in e-commerce in order to create secure and seamless online purchasing experiences. Integrating payment gateways, inventory management, and order processing systems necessitates strong programming abilities.
8. Analytics and Data Collection: Web development allows for the integration of analytics technologies, which allows businesses to gain insights into user behavior, demographics, and website interactions. This information allows for more informed decision-making and aids in the refinement of marketing tactics.
How website helps in bridging the gap for success
A well-designed and meticulously constructed website is critical in bridging the success gap in various ways:
1. Creating an Online Presence: In today's digital world, a website is sometimes the initial point of contact for potential customers or clients. It functions as a virtual storefront, displaying vital information about your company, products, and services. A professional and user-friendly website establishes credibility and creates a great first impression, bridging the gap between your company and its target audience.
2. Effective Communication: A website is a strong communication tool that allows you to immediately communicate your brand's message, mission, and values to your target audience. It bridges the gap between your company and its customers by providing them with useful information, updates, and insights about your company.
3. Showcasing items and Services: A website provides a platform for visually attractive and informatively displaying your items or services. High-quality photographs, informative descriptions, and customer reviews assist potential customers make informed selections by bridging the gap of ambiguity.
4. Accessible Information: A well-structured website ensures that visitors can readily access key information such as contact information, business hours, pricing, and frequently asked questions. This ease of access bridges the gap between consumer inquiries and the information they need, resulting in more efficient encounters.
5. Global Reach: With a website, your company may reach a global audience that is not limited by geography. This increased reach bridges the gap between your company and potential clients from various places, allowing for fresh growth chances.
6. Customer Engagement: Interactive features such as contact forms, chatbots, comment sections, and social media integration allow you to communicate with your audience directly. This contact bridge generates a sense of belonging, loyalty, and community.
7. Sales and Conversions: A website with optimized landing pages, clear calls-to-action, and simple checkout processes bridges the interest-to-action gap. It effortlessly directs visitors through the sales funnel, increasing conversions.
8. Data and Analytics: Websites enable you to collect useful information about user behavior, preferences, and interactions. This data analysis bridges the gap between assumptions and insights, allowing for data-driven decision-making and tailored marketing strategies.
9. business Building: A well-designed website with consistent branding elements strengthens the identity of your business and develops brand recognition. Customers' decisions are influenced by this bridge of familiarity and trust, which encourages repeat business.
10. Competitive Advantage: A professionally designed and intelligently produced website distinguishes you from competitors that have an outdated or insufficient internet presence. It crosses the digital divide between staying current and falling behind.
Choosing the Best Website Development Company In India for your business is an investment in experience, innovation, and dedication to your success. We bring a plethora of knowledge to the table, as well as a proven track record of delivering excellent projects. Our expert personnel recognize that your company is unique, and we design our solutions to precisely meet your goals and vision. We ensure that your website is not just cutting-edge, but also responsive and user-friendly by staying on top of industry trends and technologies.
What separates us is our commitment to delivering an amazing user experience, careful quality assurance, and on-time project delivery. We don't simply construct websites; we develop powerful digital assets that promote growth, engagement, and brand awareness with our complete SEO techniques, ongoing support, and a focus on your business objectives. Partner with our Best Web Development and Digital Marketing Company In India to improve your online presence and propel your company to new heights.