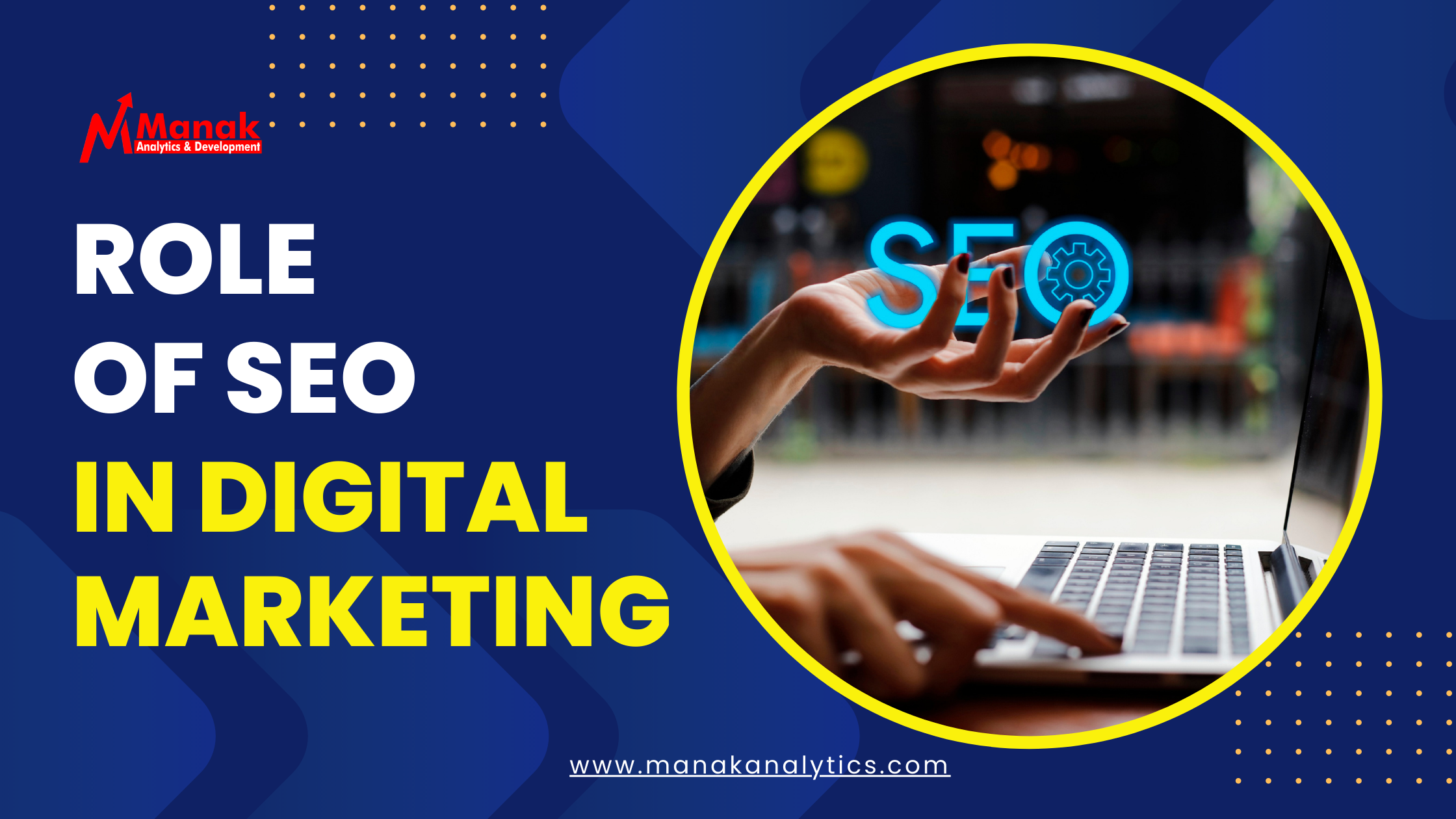 What role does SEO play in digital marketing? Why is it necessary for a website?
Search Engine Optimization (SEO) develops as a critical technique in the huge world of digital marketing, where competition for online exposure is severe. SEO acts as a compass, directing websites towards higher search engine rankings, more organic traffic, and a stronger online presence. As the digital arena expands, the importance of SEO grows more evident, making it an essential component of any effective digital marketing effort.
In the modern era, where search engines like Google, Bing, and Yahoo operate as gatekeepers to massive amounts of online content, a website's exposure on these platforms can make or break its business. This is where SEO comes into play. It refers to a wide range of tactics and practices aimed at improving a website's structure, content, and online authority in order to get higher search engine rankings.
What is SEO and how it is useful?
Search Engine Optimization (SEO) is a complex digital marketing strategy that aims to increase the exposure and organic (non-paid) search engine rankings of a website. It entails a set of approaches, tactics, and optimizations aimed at improving a website's online visibility, making it more accessible to search engines and appealing to consumers looking for relevant information, products, or services.
Several crucial considerations will help you understand the value of SEO:
1. Increased Organic Traffic: Unlike sponsored adverts, organic search results surface naturally on search engine results pages (SERPs). SEO is essential for increasing organic traffic to a website. When a website ranks higher in search engine results for relevant keywords, it obtains more hits and visits from users who are actively looking for information or answers.
2. Improved User Experience: SEO entails optimizing numerous parts of a website in order to produce a user-friendly experience. This involves increasing site performance, responsiveness on mobile devices, ease of navigation, and high-quality content. These enhancements not only please search engines, but also give a better experience for visitors, resulting in more time spent on the site and fewer bounce rates.
3. Credibility and Trust: Users frequently consider websites that rank higher in organic search results as more credible and trustworthy. Users generally believe that search engines will offer the most relevant and credible results. A website gets credibility and establishes itself as a reliable source in its sector by being on the first page of search results.
4. Long-Term Cost-Effective Strategy: When compared to paid advertising, SEO can be a long-term cost-effective strategy. While it does necessitate an initial commitment in terms of time, resources, and even employing professionals, the long-term advantages in terms of organic traffic and brand recognition can be significant without the continuous expenditures associated with paid advertising.
5. Long-Term influence: When done effectively, SEO activities can have a long-term influence. Unlike sponsored advertising strategies, which cease to give results once the budget is depleted, the effects of SEO can last for a long time. Even after the initial optimizations, the accumulated authority and visibility can drive traffic and leads.
6. Targeted Audience: SEO allows you to target certain keywords and phrases related to your company or sector. This means you're reaching out to people who are already interested in what you have to offer, which increases the likelihood of them becoming consumers or clients.
7. Competitive Advantage: In today's digital landscape, online exposure is fiercely competitive. Companies that invest in SEO obtain a competitive advantage by outranking their competitors in search engine rankings. Obtaining a position on the first page of search results can have a substantial impact on exposure and customer acquisition.
Role of SEO in Digital Marketing
Search Engine Optimisation (SEO) plays a critical function in digital marketing, serving as a foundational pillar that greatly determines the effectiveness of any online marketing campaign. SEO is a comprehensive and vital component of the digital marketing environment, comprising a variety of factors that contribute to a website's exposure, reputation, and overall online success. Here are some of the main functions that SEO plays in the world of digital marketing:
1. Improved Visibility and Search Rankings: Improving a website's visibility on search engines is one of the key tasks of SEO. SEO seeks to gain greater search engine ranks for relevant keywords and phrases by optimizing different on-page and off-page aspects such as keywords, meta tags, headers, and backlinks.
2. Increased Organic Traffic: The focus of SEO on boosting search engine rankings connects directly with driving organic (unpaid) traffic to a website. When a website ranks higher for relevant search queries, it receives more hits and visits from visitors who are actively looking for answers or information.
3. User-Centric Approach: Effective SEO entails optimizing the user experience of a website. Search engines prioritize websites that provide users with valuable and relevant material. As a result, SEO promotes the creation of high-quality, informative, and engaging content that is relevant to the target audience's needs.
4. Technical Optimization: SEO involves technological optimizations that increase a website's performance and accessibility for both search engines and users. This includes web performance, mobile friendliness, secure surfing (HTTPS), and structured data markup.
5. Content Strategy: The heart of SEO is content. A well-structured content strategy, which includes keyword analysis, topic ideation, and frequent content development, aids in the website's establishment as an authoritative source in its field.
6. Local and Global Reach: SEO techniques can be modified to target audiences in their local, regional, or global locations. Local SEO strategies help businesses with physical locations enhance visibility inside a specific geographic area.
7. Link Building and Online Authority: Earning backlinks from authoritative and relevant websites is essential for establishing a strong online presence. Backlinks serve as a vote of confidence for search engines, showing that the website is a reliable Resource.
8. Analytics and Data-Driven Insights: SEO is not a guessing game; it is based on data and analytics to determine the efficacy of strategies. SEO professionals may gain useful information about user behavior, site performance, keyword rankings, and more by using tools like Google Analytics and Search Console.
9. Integration with Other Marketing Channels: SEO does not operate in isolation from other marketing channels. It complements other digital marketing channels including content marketing, social media, and paid advertising.
Importance of SEO for website
The significance of SEO for a website is immense and far-reaching. SEO is the cornerstone of efficient digital marketing strategy in an era where online presence defines success. SEO improves a website's visibility on search engines by optimizing its structure, content, and technological characteristics, making it more discoverable to potential visitors. This enhanced visibility leads to increased organic traffic, grabbing the attention of visitors who are actively looking for the products, services, or information that the website provides. Furthermore, SEO fosters credibility and trust by positioning the website as an authoritative source in its sector. A well-executed SEO strategy not only increases search ranks, but also provides a consistent user experience via responsive design, faster load times, and simple navigation. This, in turn, leads to increased engagement and lower bounce rates. SEO, with its ability to target certain keywords and demographics, offers precisely the type of audience a business seeks, resulting in more qualified leads and conversions. SEO, as a cost-effective and long-term strategy, continues to provide value even after the initial investment, providing a competitive advantage and long-term growth. In essence, SEO's significance stems from its potential to increase a website's reach, legitimacy, and influence, making it a necessary tool for attaining digital marketing success.
Choosing our Best SEO Company In India for your company is a decision that will take your digital presence to new heights. With a proven track record of success, our team of seasoned experts brings a plethora of knowledge to the table, expertly navigating the ever-changing environment of SEO. We keep you informed every step of the way as we are the Best SEO Services Company In India with a transparent approach, providing full insights into the success and impact of our activities. Your online success is founded on a solid basis thanks to our ethical and ecological practices.
Conclusion
In Conclusion, SEO (Search Engine Optimisation) is critical and complicated in the world of digital marketing. It serves as the foundation for a website's exposure and discoverability, letting businesses engage with their target audience efficiently in the online landscape. SEO improves the chances of appearing higher on search engine results pages by optimizing various parts of a website, content, and online presence. This increases organic traffic and potential consumer engagement.