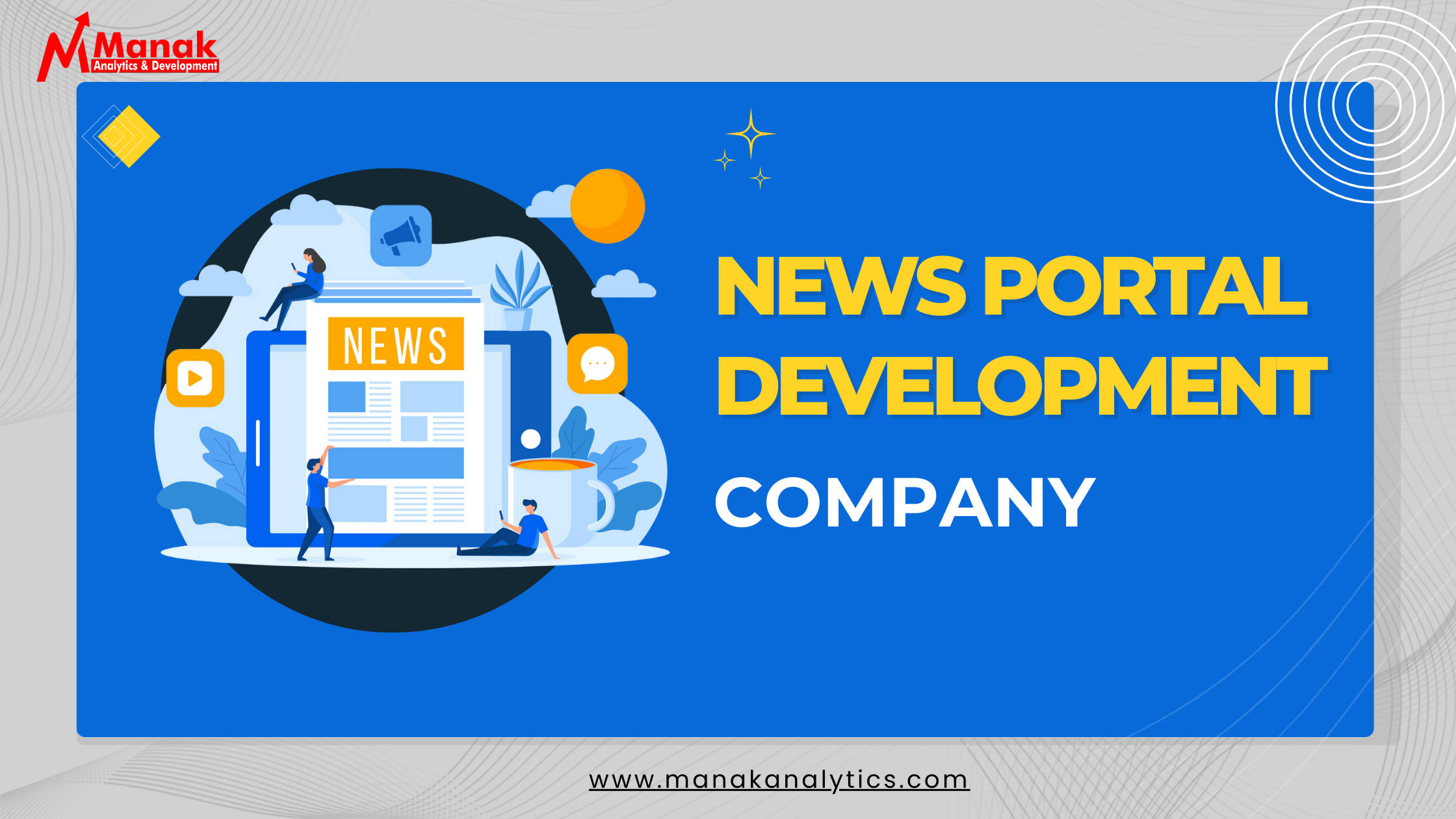 Best News Portal Development Company In India
As the world's news consumption moves to the internet, the role of news portal development companies has become increasingly important in determining how we access and engage with information. These innovative companies are the brains behind the internet platforms that supply us with breaking news, in-depth analysis, and various opinions on a wide range of topics.
A news portl development company is a specialized tech entity that concentrates on developing creative and user-friendly digital platforms for news agencies and media groups. These platforms serve as a digital center for news content distribution, allowing consumers to access breaking news, read in-depth articles, view videos, listen to podcasts, and participate in interactive features all in one place.
What is News Portal?
A news portal, sometimes referred to as a news website or an online news platform, is a digital platform that serves as a central hub for distributing news and information to its audience via the Internet. It is a modern approach to journalism that allows individuals to easily and quickly obtain news stories, multimedia content, and updates from numerous sources.
News portals collect content from many news agencies, newspapers, journalists, and other media entities, presenting their viewers with a varied range of themes and opinions. Politics, business, technology, sports, entertainment, health, and other topics are covered on these platforms, which appeal to the interests of a diverse and worldwide audience.
News portals' structure and layout are intended to be user-friendly and simple to explore. They usually include a homepage that presents the most recent and important news stories, which are organized into several categories or sections. Users can read full articles, watch videos, listen to podcasts, and access interactive features by clicking on headlines.
Purpose of the News Portal
A news portal's objective is to provide a comprehensive and easily accessible digital platform for delivering news and information to its audience. News portals serve various important functions:
Informing the Public: A news portal's major function is to enlighten the public about current events, breaking news, and important topics from diverse disciplines such as politics, economics, technology, sports, entertainment, health, and more. News portals enable people to stay informed and make well-informed decisions by delivering up-to-date information.
Centralized Information Source: News portals collect content from a variety of news sources, including newspapers, news agencies, journalists, and media outlets. This concentration enables readers to get a diverse range of news content from many perspectives and sources in a single location, eliminating the need to visit multiple websites.
Convenience and Accessibility: News portals are easily available from many platforms such as computers, cellphones, and tablets, allowing people to read news whenever and wherever they choose. This accessibility means that consumers may stay up to date even on the go.
Credible Journalism: Reputable news portals adhere to journalistic norms and ethics in their reporting, seeking to provide their readers with accurate and verifiable information. In an age when misinformation and fake news are easily circulated, the goal is to promote respectable journalism and give reliable sources of information.
Personalization: Many news portals employ algorithms and user data to tailor content to specific preferences and interests. This personalization assists users in discovering news pieces related to their individual areas of interest, hence improving their overall news consumption experience.
Interactivity and participation: Comments sections, social media sharing options, and interactive polls are common aspects of news websites that encourage user participation. These features allow readers to join discussions, express their thoughts, and connect with other users, establishing a feeling of community around the news platform.
Multimedia Content: In addition to standard text-based articles, news portals include multimedia features such as videos, photos, infographics, and podcasts to enrich the narrative experience and provide a more complete view of the news.
Global Reach: Because news portals are accessible to people all over the world, they have a large audience reach. Because of their worldwide reach, news portals may transmit information across borders, bringing people from diverse cultures and backgrounds together through shared news and stories.
Services included in News Portal Development
The building of a news portal entails a variety of services in order to produce a fully functional and user-friendly digital platform for news distribution. Here are some of the important services that are often included in the building of a news portal:
Website Design and Development: This service entails developing the overall appearance and feel of the news portal, such as the layout, color scheme, typography, and user interface. Front-end development is also included to guarantee that the website is responsive and suitable for various devices and screen sizes.
Content Management System (CMS): A broad CMS is required for news portals because it allows content authors and editors to effortlessly publish, update, and manage news stories, multimedia content, and other information on the site. The CMS streamlines the editorial workflow and guarantees that information is delivered in a timely manner.
User Registration and Authentication: To personalize the user experience, news portals frequently provide user accounts and subscriptions. To handle user profiles, preferences, and access to premium content, user registration, and authentication services are incorporated.
Search Functionality: It is critical for news portals to provide an efficient search feature that allows users to easily find certain news articles or subjects. Search functionality contributes to a better user experience and engagement.
Social Media Integration: Social media integration allows users to share news articles and multimedia content on multiple social platforms, expanding the portal's reach and visibility.
Multimedia Integration: To enhance the narrative experience and make news stories more interesting and informative, news portals combine multimedia components such as photographs, videos, infographics, and podcasts.
Aggregation and syndication of news: News websites frequently collect content from numerous sources using RSS feeds or APIs. Syndication services enable the site to display news from a variety of sources, providing a varied range of opinions and coverage.
Real-Time Updates: Using real-time updates guarantees that breaking news and live events are sent to users as soon as possible, keeping them up to current on the newest developments.
Advertisement Management: Advertisements are how news portals make money. Advertisement management services allow for the seamless integration of advertisements, the tracking of impressions, and the control of ad spots on the website.
Analytics and Insights: Using analytics tools to track user behavior, engagement, and other vital data is beneficial. The information gathered provides useful insights into user preferences and aids in the optimization of the portal's performance.
SEO and Performance Optimisation: SEO and performance optimization services are used to ensure that the news portal ranks well in search engine results and loads rapidly. This improves visibility and user experience.
Mobile App Development: To reach a bigger audience and cater to consumers who prefer to consume news on their mobile devices, several news portals also offer mobile apps for the iOS and Android platforms.
Security and Data Privacy: Ensuring the security of user data, defending against cyber threats, and adhering to data privacy standards are all critical components of news portal construction.
Why Choose Our News Portal Development Company
Choosing a news portal development business is an important decision that will have a considerable impact on the success of your digital journalism endeavor. Here are some compelling reasons why you should think about hiring our news portal development company:
Expertise and Experience: Our organization is comprised of a team of highly skilled developers, designers, and specialists who have considerable experience in developing news portals. We have a track record of producing creative and user-friendly news platforms for a variety of businesses.
Customized Solutions: We recognize that each media organization has distinct needs and a distinct brand identity. Our strategy entails working closely with our clients to understand their individual goals and preferences, and then adapting the news portal development to fit those needs.
Cutting-Edge Technology: We stay on the cutting edge of technological breakthroughs and use the most up-to-date tools and frameworks to create modern and feature-rich news portals. Our dedication to utilizing cutting-edge technology guarantees that your platform remains competitive and in line with industry standards.
User-Centric Design: Our development process is centered on the user experience. We create visually appealing and intuitive interfaces that increase user engagement and make scrolling through news material a seamless and delightful experience for your audience.
Mobile Responsiveness: Because the majority of news consumers access material via mobile devices, we prioritize mobile responsiveness in our development. Your news site will be properly optimized for multiple screen sizes and devices, giving a consistent experience across platforms.
Content Management Made Simple: Our content management system (CMS) enables your editorial team to quickly manage, publish, and update news stories and multimedia content. The simple interface makes it simple to maintain your portal's content fresh and up to date.
Real-Time Updates: We combine real-time update tools to ensure that breaking news and live events are provided to your audience as soon as possible, keeping them up to date on the newest developments as they occur.
Search Engine Optimisation (SEO): We include SEO best practices in our news portal construction to help your platform rank higher in search engine results and attract more organic traffic, allowing you to reach a larger audience.
Data Security and User Privacy: We take data security and user privacy very seriously. Our development follows strict security protocols to preserve user data and defend your site from potential cyber threats.
Analytics & Insights: Our analytics integration delivers vital insights into user behavior, allowing you to better understand your audience and make more educated decisions to increase content and engagement.
Support and Maintenance: Our services go beyond development. We provide ongoing support and maintenance to ensure that your news portal runs smoothly and efficiently, with any technical difficulties addressed as soon as possible.
Affordable and Transparent Pricing: Pricing that is both affordable and transparent: We offer pricing that is both affordable and open, with no hidden costs. Our cheap pricing ensures that you get the most bang for your buck without sacrificing quality.
Manak Analytics and Development is the Best News Portal Development Company in India that specializes in building dynamic, high-quality news portals that meet the constantly shifting demands of the digital age. Our skilled team of developers, designers, and content strategists collaborate to create news platforms that are appealing to users and efficiently distribute news material.
At our company, we recognize the significance of timely and practical news delivery. In order to design intuitive and responsive news portals, we integrate cutting-edge technologies with a thorough understanding of user behavior. We aim to deliver a seamless user experience that entices users to stay interested and return frequently.
We provide News Portal Design and Development with a complete set of benefits that make us the ideal choice for your project. We understand the unique issues and requirements of news organizations because of our strong industry expertise and considerable experience. Our team is made up of highly skilled experts who are dedicated to exceeding your expectations and delivering quality.
Summary
Our News Portal Development Company is a prominent developer of innovative solutions for news organizations, media outlets, and publishers looking to establish a strong online presence. We offer comprehensive services customized to the special needs of the news sector, thanks to a staff of highly qualified and experienced developers, designers, and content management professionals.