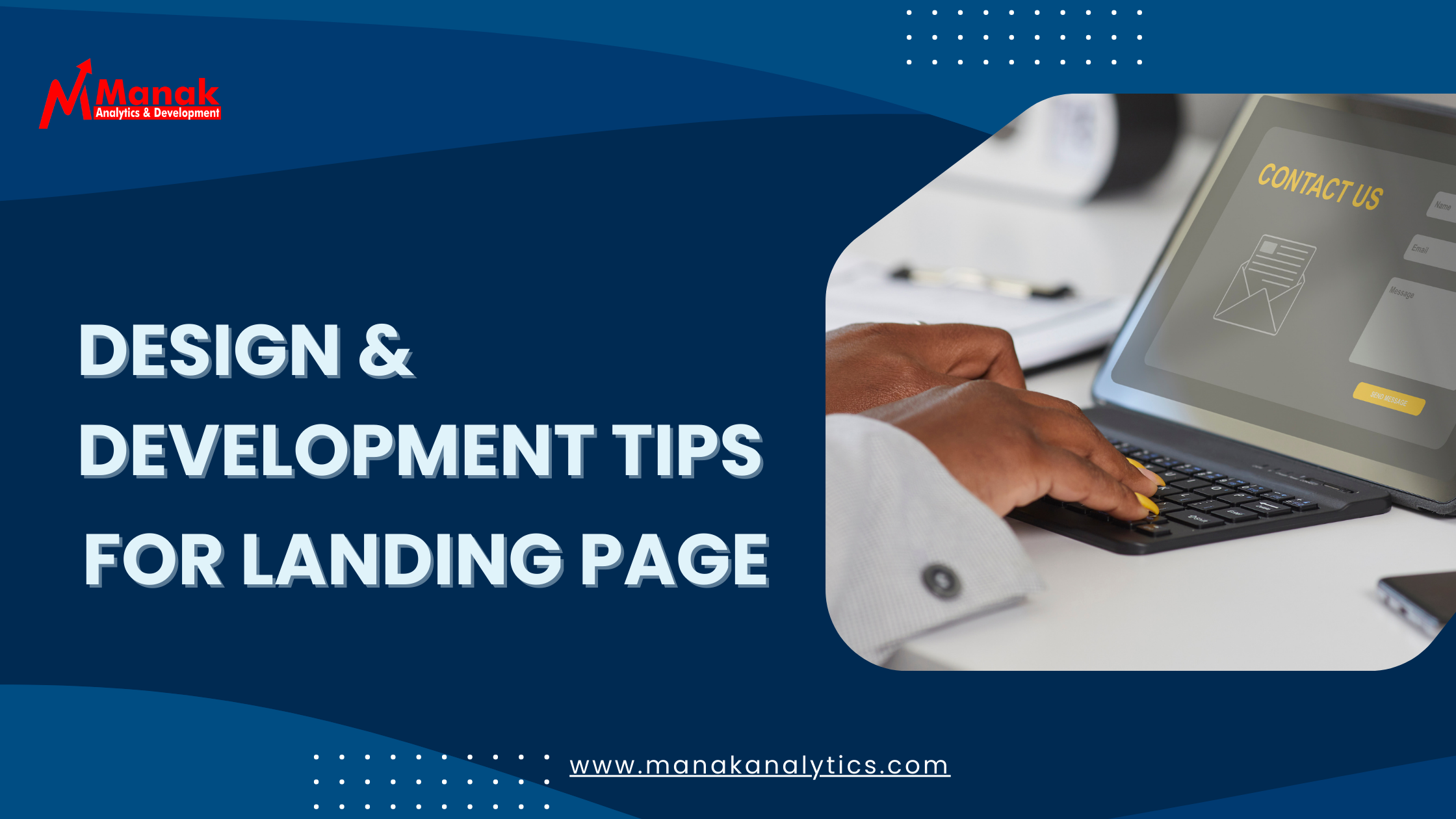 Design and Development Tips for Creating Captivating Landing Pages
A landing page is an entryway to your website, and it is frequently the first interaction a visitor has with your brand, product, or service. It's the virtual version of a warm handshake or a friendly grin, and it sets the tone for the rest of the user journey. The difference between a humdrum and a fascinating landing page is not just in its looks, but also in its capacity to instantly engage, communicate, and drive visitors towards a certain action. Whether you want to increase e-commerce sales, collect leads, advertise an event, or simply tell a fascinating story, the basics of captivating landing page design and development are constant.
What do you mean by Landing Page?

A landing page is a web page that is specifically created and optimized with the goal of turning visitors into leads or customers. It is frequently used in Internet marketing and advertising efforts to direct visitors to take a certain action, such as signing up for a newsletter, downloading an ebook, purchasing a product, or completing a contact form.
Landing pages are designed to be hyper-targeted and geared to a single aim. They often include succinct and convincing material, as well as relevant images or videos, to attract the attention of the visitor and urge them to do the intended action. Selecting the Best Website Development Company In India will help your company to have a comprehensive landing page design that helps your company to stand out from competitors.
Key Characteristics Of Landing Page
Clear and Short Message: The landing page should have a clear headline and a short message that communicates the visitor's value or offer right away.

Call to Action (CTA): A strong and visible call to action is required. This is the precise action you want the visitor to take, for example, "Buy Now," "Sign Up," or "Download."

Minimal Navigation: Landing pages often offer minimal navigation options to keep visitors focused on the desired activity and away from other links.

Relevance: The material on the landing page should correspond to the messaging of the advertisement or link that directed the visitor there. Messaging consistency improves the user experience and conversion rates.

Visuals: Images, videos, and graphics can help deliver the message while also making the page more visually appealing.

Trust and legitimacy: Including trust indicators like customer testimonials, reviews, security badges, or partnership emblems can boost the offer's legitimacy.

Mobile Responsiveness: Because many people access the internet through mobile devices, it's critical that the landing page is optimized for different screen widths.

A/B Testing: Marketers frequently use A/B testing to determine which version of a landing page performs better in terms of conversions. This aids in the optimization of the page for better results.
What are Landing Pages on the Website?
Landing pages on a website serve as focused entrance points with the goal of converting visitors into actionable leads or customers. Unlike conventional internet pages, these specialized sites are deliberately built with a single goal in mind, whether it's marketing a product, driving webinar sign-ups, or facilitating important content downloads. Landing pages reduce distractions and direct users seamlessly toward the desired action by maintaining a laser focus on one key goal.
These pages, which are often aligned with specific marketing initiatives, are frequently connected to commercials or email promos, allowing a seamless transition for people wanting additional information. Landing pages optimize user engagement and conversion rates by using components such as appealing headlines, convincing content, and strategically positioned calls to action. Businesses constantly tweak these sites for optimum impact by using A/B testing and analyzing critical indicators. In essence, landing pages are critical components of a website's framework, meant to boost marketing efforts and direct users toward meaningful interactions that correspond with the overall business goals.
Design & Development Tips for Captivating Landing Pages
Creating enticing landing pages necessitates a precise balance of visual appeal, convincing content, and user-friendly aspects. Here are some pointers to help you develop compelling and effective landing pages:
Headline that is Clear and Compelling: Your headline should be brief, attention-grabbing, and directly related to your offer. It should quickly express the value proposition of your product or service.

Visual Hierarchy: Use a clear visual hierarchy to direct the attention of visitors. Make sure your headline, images, and call-to-action (CTA) are visible and easy to read.

Engaging Visuals: Include relevant, high-quality images or videos that support your offer. Visuals can help express the benefits of your product or service while also eliciting an emotional response from the visitor.

Concise Content: Keep your text succinct, focusing on the primary benefits and features of your service. Break up content with bullet points and subheadings to make it more scannable.

Compelling Copy: Write compelling copy that emphasizes the value of your offer and solves the visitor's problem points. Use language that is appealing to your intended audience.

Trust Signals: To establish credibility and assuage any concerns, include trust-building features such as customer testimonials, reviews, accolades, and security badges.

Call-to-Action (CTA): Your CTA should be prominently featured, in a color that contrasts with the rest of the page, and include action-oriented content (e.g., "Get Started," "Download Now"). Make it clear to visitors what action they should take.

Mobile Responsiveness: Make certain that your landing page is responsive and appears properly on a variety of devices and screen sizes. A sizable proportion of internet users access the internet via mobile devices.

Form Optimisation: If your goal is to collect user information, keep form fields to a minimum and just ask for necessary information. Visitors may be discouraged from completing lengthy forms.

Whitespace: Make good use of whitespace to produce a clean and uncluttered layout. A well-structured page improves readability and user experience.

Reduced Navigation: Reduce distractions by limiting navigation possibilities. The idea is to maintain visitors' attention on the primary activity you want them to take.

Shortage and Urgency: If applicable, create a sense of shortage or urgency. Visitors can be enticed to act swiftly via limited-time deals or restricted goods.

Color Psychology: Select colors that complement your brand and elicit the desired emotional response. Different colors can express various emotions and messages.

Testing and Optimisation: Test various parts of your landing page on a regular basis, such as headlines, CTAs, graphics, and layouts. A/B testing allows you to determine what is most appealing to your target audience.

Loading Time: Make certain that your landing page loads swiftly. Slow-loading pages might result in increased bounce rates and lower conversion rates.

Privacy and Data Security: If you gather user data, make your privacy policy widely visible and reassure visitors about the security of their information.
Choosing Manak Analytics & Development for your landing page design and development needs is an investment in quality and results. Our talented staff combines artistic flare and technological experience to ensure that your landing page is not only visually appealing but also functional. We are a Web Development Company In India that create landing pages which are smoothly driving visitors to meaningful actions using a thorough understanding of user behavior and conversion optimization approaches. What distinguishes us is our dedication to tailoring solutions to your specific brand identity and commercial objectives. We've built a reputation for producing great results through a data-driven strategy, constantly improving elements for optimum impact. You are selecting innovation, cooperation, and a track record of delivering tangible business progress when you choose us. Your vision, along with our expertise, will result in a captivating digital experience that captivates consumers, engages them, and converts leads. Choosing the Best Web Development Company In Lucknow will help your company to achieve its best landing page goals and make your brand stand out from the crowd.
Conclusion
So the conclusion is a landing page's ultimate purpose is to drive conversions, whether that's making a purchase, joining up, or downloading information. You can construct landing pages that effectively attract visitors' attention and guide them toward taking the intended action by using these design and development recommendations.