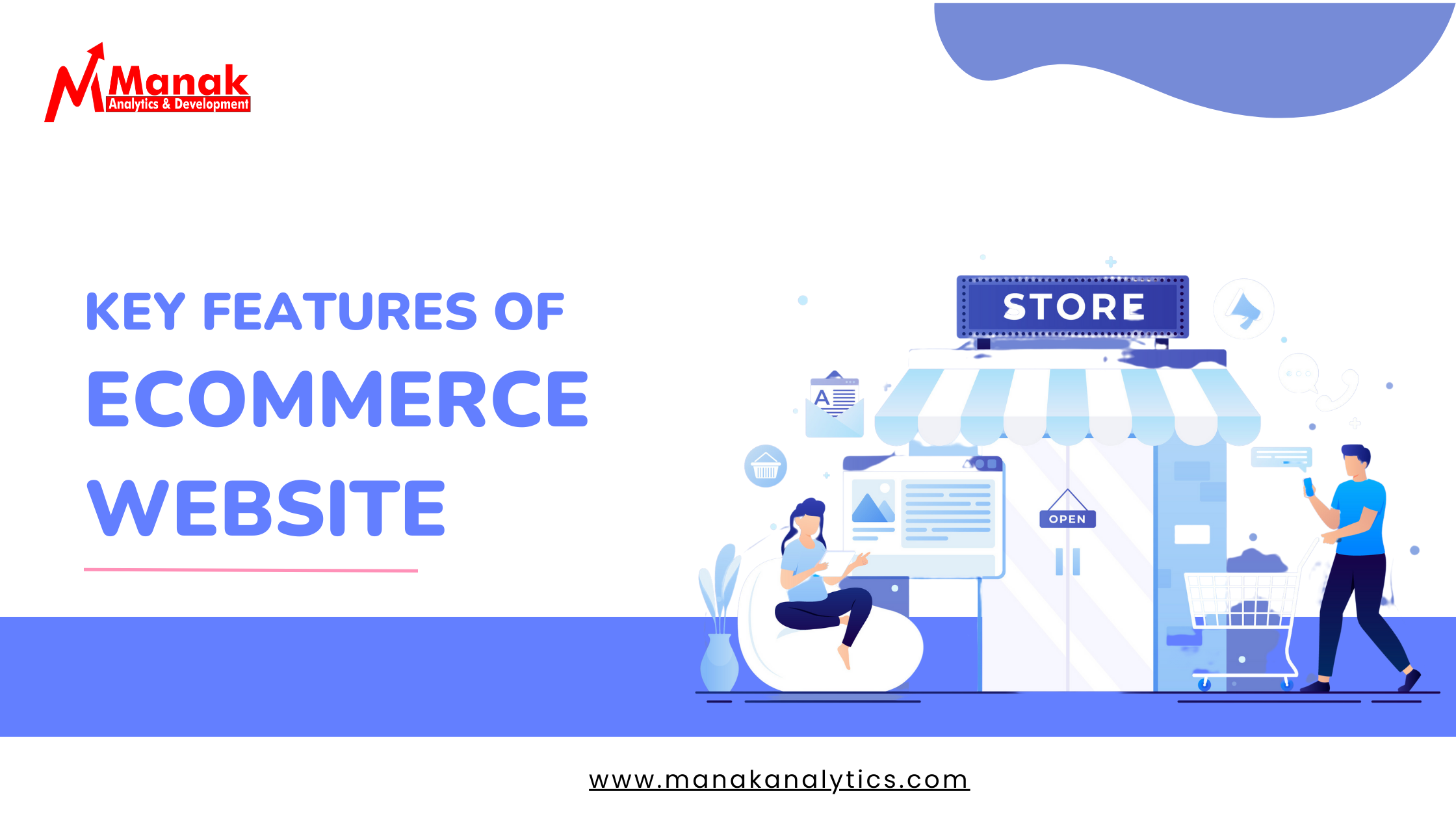 Key Features Of Every Successful eCommerce Website
eCommerce has grown at an exponential rate in the world of technology, and its importance in the global economy cannot be understated. Businesses are continuously attempting to establish successful eCommerce websites that not only attract customers but also increase conversions and foster loyalty as online shopping grows in popularity. Standing out from the crowd in this fast-paced and competitive environment necessitates an awareness of the main qualities that constitute a strong eCommerce platform.
In this article, we will look at the key aspects that contribute to the success of any successful eCommerce website. Whether you are an experienced eCommerce business trying to improve the performance of your website or an aspiring entrepreneur looking to enter the digital marketplace, understanding and applying these important characteristics will surely set you on the route to eCommerce success. Create your custom eCommerce website with the Best eCommerce Development Company In India.
What Is an eCommerce Website?
An e-commerce website is a web-based platform that allows people to buy and sell goods and services over the Internet. It enables businesses and customers to exchange and communicate in a virtual marketplace, obviating the necessity for physical stores. E-commerce has grown in popularity in recent years, transforming the way people shop and conduct business.
Key E-commerce Website Components:
User-Friendly Interface: A good e-commerce website has a clean and intuitive user experience that allows users to easily navigate and locate what they are searching for. Clear product categorization, a prominent search bar, and straightforward checkout processes all contribute to a better user experience.
Mobile Responsiveness: With the growing popularity of smartphones and tablets, it is critical for an e-commerce website to be fully responsive across many platforms. Customers may access the platform and make purchases from any location thanks to mobile compatibility.
Product Showcase: High-quality photos, detailed product descriptions, and customer feedback are required for efficiently showcasing products. Providing correct information helps potential customers develop trust and confidence, which leads to more sales.
Secure Payment Gateways: Security is critical in e-commerce. Integration with dependable and secure payment gateways gives clients the confidence to conduct online purchases without fear of their sensitive information being compromised.
Shopping Cart and Checkout Process: A well-designed shopping cart feature enables users to easily add products, view their selections, and check out. Cart abandonment rates can be dramatically reduced by streamlining the checkout process by minimizing stages and providing several payment options.
Search Engine Optimisation (SEO): Using SEO best practices improve the website's visibility on search engines, bringing in organic traffic and possible clients. Product pages with optimized content and relevant information rank higher in search results.
Personalization and Recommendations: Tailoring the purchasing experience based on a customer's interests and previous behavior can greatly enhance conversion rates. Personalized product recommendations and offers make for a more engaging and customer-centric experience.
Customer Service and Communication: In e-commerce, prompt and excellent customer service is critical. Customers' questions and concerns can be addressed via live chat, email, or phone assistance, building a healthy relationship between the company and its customers.
Integration of Social Media Platforms: Using social media platforms allows businesses to reach a larger audience and engage with customers. By incorporating social media buttons and sharing capabilities, customers are able to share products and content with their networks, potentially increasing brand visibility.
Analytics and Insights: The usage of analytics tools aids in the monitoring of website performance, user behavior, and sales indicators. Businesses may use data-driven insights to make more informed decisions, optimize marketing efforts, and improve the overall website experience.
What Is a Purpose Of an eCommerce Website?
An eCommerce website's objective is to facilitate online purchasing and selling of goods or services. It functions as a virtual storefront, allowing businesses to promote their products or services to a large audience of potential buyers. Similarly, shoppers can effortlessly browse, compare, and purchase things from the comfort of their homes or while on the go. The key functions of an eCommerce website are as follows:
Online Sales: The primary goal of an eCommerce website is to create cash by selling products or services to customers directly. It allows businesses to reach a global audience and operate around the clock without the constraints of physical store locations.
Expanding Market Access: An eCommerce website enables firms to access customers outside of their immediate geographic area. This expands their prospective consumer base and market reach dramatically.
Convenience for Customers: Convenience is a significant driver of eCommerce success. Customers may shop whenever and from anywhere they want, reducing the need for them to visit physical locations. This added convenience improves the overall purchasing experience and encourages repeat purchases.
Cost-Effectiveness: Running an eCommerce website can be less expensive than running a traditional brick-and-mortar store. It lowers costs for rent, utilities, and in-store staff, making it an appealing alternative for both startups and existing enterprises.
Detailed Product Information: An eCommerce website allows companies to offer detailed information about their products or services. Customers can find product descriptions, specifications, customer reviews, and other useful information to help them make informed purchasing decisions.
Personalization and Customer Engagement: eCommerce websites can personalize the buying experience for individual users by utilizing customer data and insights. Customer engagement and loyalty are increased through tailored product recommendations and targeted marketing activities.
Efficient Order Management: Automated order processing and inventory management systems simplify the fulfillment process, allowing firms to handle client orders and track inventory levels more efficiently.
Marketing and Promotions: An eCommerce website serves as a central location for marketing initiatives. Businesses can use promotional campaigns, discounts, and special offers to attract and retain customers, resulting in increased sales and revenue.
Gathering consumer Data: Businesses can collect important consumer data such as purchase history, preferences, and demographic information through eCommerce platforms. This information can be used to improve marketing strategy and general business operations.
Scalability alternatives: eCommerce websites provide scalability alternatives for enterprises. Businesses can extend their offers, add new product lines, and appeal to a larger audience as their consumer base grows without requiring costly infrastructure upgrades.
Key Features Of Every Successful eCommerce Website
Developing a successful eCommerce website entails a variety of elements and features that improve user experience, generate conversions, and nurture client loyalty. Here are some fundamental traits shared by successful eCommerce websites development company
User-friendly interface: A clean, intuitive, and simple-to-navigate interface is critical for efficiently navigating users through the website. The design should be responsive and optimized for multiple devices, such as mobile phones and tablets.
High-quality product photographs and descriptions: Clear and appealing product images from numerous angles assist clients in making educated purchasing decisions. Complement these photographs with extensive and accurate product descriptions, specifications, and relevant information.
Seamless checkout process: The checkout process should be efficient and straightforward, with the number of steps required to complete a purchase kept to a minimum. Allow customers who do not want to form an account to check out as guests.
Secure payment options: Make sure your website incorporates secure and dependable payment methods to protect your consumers' sensitive information and to generate trust in your eCommerce platform.
Product search and filtering: Create an excellent search function that helps customers easily find products. To refine search results, include filters for price, size, color, category, and other relevant qualities.
Personalization and suggestions: Personalise the shopping experience by delivering appropriate product recommendations and personalized information based on consumer data and browsing behavior.
Customer ratings and reviews: Include customer ratings and reviews for products to increase trust and credibility. Positive evaluations can influence purchasing decisions and give potential customers social proof.
Responsive customer support: Offer different communication methods, such as live chat, email, and phone support, to assist consumers with inquiries, complaints, or concerns in a timely and professional manner.
Mobile optimization: With an increasing amount of consumers shopping on mobile devices, having a mobile-optimized website is critical for providing a seamless experience to mobile customers.
Fast loading speed: Optimise the performance of the website to ensure speedy loading times. Slow-loading pages can increase bounce rates and turn off potential clients.
Social media integration: Include social networking buttons and features that allow customers to share products, wishlists, or purchases, enhancing the visibility and reach of your company.
Abandoned cart recovery: Use tactics such as sending reminder emails or offering incentives to urge customers to complete their purchases to recover abandoned shopping carts.
Loyalty and rewards program: Encourage repeat purchases by developing a loyalty program that rewards customers for their ongoing support and engagement.
Clear shipping and return policies: Transparency in shipping costs, delivery timelines, and return policies builds customer trust and lowers cart abandonment.
SEO optimization: Make sure your website is search engine optimized in order to appear higher in search results and generate organic traffic.
Selecting the best e-commerce website development company in India can be a strategic and beneficial move for businesses looking to establish a strong online presence. India has evolved as a global IT and software development hub, possessing a large pool of talented and competent developers with e-commerce solution knowledge. Our Company Manak Analytics and Development provide cost-effective services without sacrificing quality, making them a financially viable alternative for businesses of all sizes. Communication is rarely a problem because many Indian developers speak English fluently, allowing for seamless collaboration and comprehension of project needs.
Conclusion
In Conclusion, the world of e-commerce has undergone extraordinary expansion, with businesses competing for the attention of online consumers. In this fiercely competitive landscape, the success of an e-commerce website is dependent on its ability to give clients a seamless and exciting shopping experience. The basis for a thriving online platform that attracts, engages, and turns visitors into devoted customers is built on key elements. From user-friendly interfaces and safe payment choices to personalized recommendations and efficient customer service, these aspects all play an important role in determining an e-commerce website's overall success.