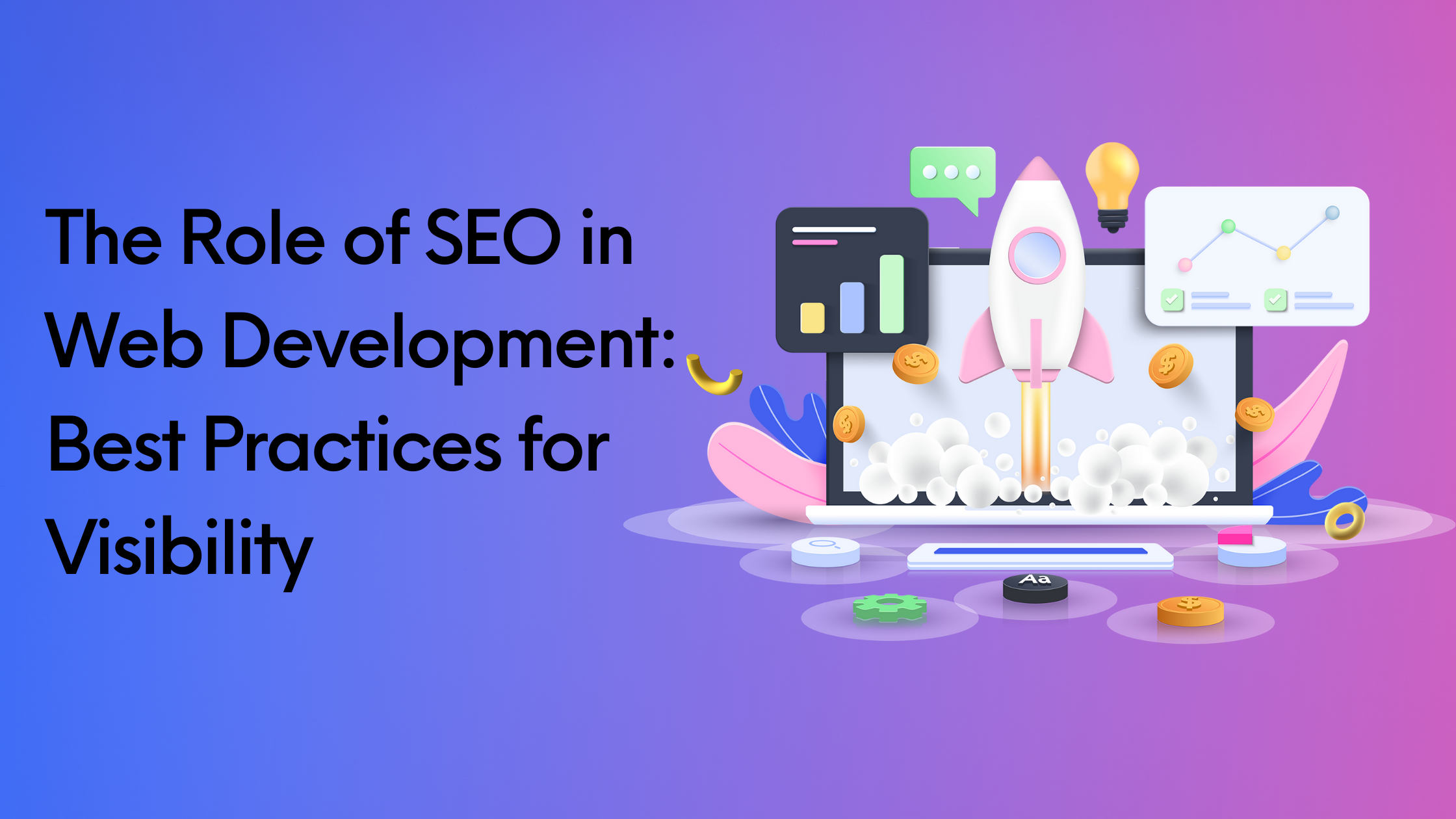 The Role Of SEO In Web Development: Best Practices for Visibility
In today's competitive online environment, comprehending and applying SEO concepts while building websites is more important than ever. Having a website is no longer sufficient for businesses to succeed online in the modern era of the internet. It is crucial to make sure that your website stands out and effectively reaches your target audience given the millions of websites fighting for users' attention. Search engine optimization (SEO) is helpful in this situation. The strategic approach that SEO provides to increase a website's visibility, organic traffic, and overall success online has made it a crucial component of web development. The goal of SEO, which tries to increase a website's functionality and exposure on search engine result pages (SERPs), is to implement a variety of techniques and tactics.
What is SEO?
Search engine optimization, or SEO. It refers to the process of optimizing a website to raise its standings and exposure on search engine result pages (SERPs). Increased organic (non-paid) traffic from search engines like Google, Bing, or Yahoo is the main objective of SEO. When consumers type search queries, search engines use sophisticated algorithms to evaluate the relevancy and value of web pages. The goal of SEO is to align a website with these algorithms so that it will be more likely to show up in relevant search results.
Both on-page and off-page optimization are included in SEO. In on-page optimization, components of the website itself are optimized, including the content, meta tags, headings, URLs, and internal linking scheme. Off-page optimization refers to actions taken away from the website, like establishing backlinks from trustworthy websites, social media promotion, and reputation management.
How SEO helps in web development?
The process of web building would not be complete without SEO, which offers several advantages. SEO mostly contributes to a website's enhanced visibility. Web designers can improve a website's structure, content, and other aspects to make it more appealing to search engines by using efficient SEO tactics. Because of its increased visibility, the website is more likely to show up in relevant search results and draw in organic traffic.
The whole user experience can be improved with the help of SEO. Search engine optimization (SEO) makes ensuring that users have a smooth and delightful browsing experience by optimizing website performance, mobile responsiveness, navigation, and usability. Web designers may build websites that are not only search engine friendly but also provide users with simple navigation, rapid page loads, and interesting content. This will ultimately result in improved user satisfaction and more conversions.
SEO increases a website's organic, targeted traffic. SEO assists in attracting visitors who are actively looking for goods, services, or information relating to the website's offers by conducting in-depth keyword research and inserting pertinent keywords into the website's content. These focused visitors have a higher chance of becoming clients or accomplishing the website's objectives.
When developing a website, SEO is a key factor in determining the content strategy. Website content can be made useful, interesting, and optimized by web developers by comprehending user search intent and including targeted keywords that suit both user requirements and search engine algorithms. This tactical approach helps the website become more visible in search results, draw in organic visitors, and become recognized as a trustworthy information source in its field.
Best Practices Of SEO for Visibility
Consistently adhering to SEO-recommended practices is crucial for improving visibility in search engine result pages (SERPs). Here are some crucial techniques:
Keyword Research: Conduct thorough keyword research to find high-value, pertinent terms that match the search intent of your target audience. To improve the effectiveness of your content, find popular and less competitive terms using keyword research tools.
On-Page Optimization: Improve the on-page components of your website, such as the headings, URLs, and alt tags for the images. Make sure you naturally incorporate your target keywords and that these aspects appropriately reflect the content on each page.
High-Quality Content: Produce informative and captivating material that meets user needs. Concentrate on presenting thorough information, utilizing appropriate layouts (headings, paragraphs, and bullet points), and naturally inserting pertinent keywords. Update and expand your knowledge frequently to show that it is pertinent and knowledgeable.
Site Structure and Navigation: Create a clear, user-friendly website organization that makes it simple for both users and search engine bots to explore and comprehend your website. To assist visitors and search engines in finding relevant information, utilize clear and descriptive URLs, a hierarchical structure with categories and subcategories, and internal linking.
Mobile Optimization: Make your website mobile-friendly so that users can have a better experience and search engines will favor it. Assure responsive design, quick page loading, and simple mobile navigation.
Backlink Building: Earn high-quality backlinks from websites that are reliable and pertinent to your sector by engaging in backlink building. Focus on producing informative material that draws links organically, contacting influencers and subject matter experts for cooperation, and taking advantage of guest blogging opportunities.
Social Media Engagement: Establish a strong social media presence to promote your content on social media, raise brand awareness, and generate visitors. Engage your audience, distribute your material on relevant platforms, and take part in industry discussions that are pertinent to your audience.
User Experience Optimization: Put the needs of the user first by enhancing website performance, cutting down on page load times, and ensuring a smooth surfing experience. Make sure your website is simple to use, with obvious calls to action and a user-friendly layout.
Regular Monitoring and Analysis: Use web analytics tools like Google Analytics to continuously check the performance of your website. Examine important analytics including bounce rates, conversions, keyword rankings, and organic traffic.

Conclusion
In conclusion, SEO is an integral part of web development as it increases exposure, improves user experience, generates targeted organic traffic, directs content strategy, and adapts to search engine algorithms, which is a crucial component of website development. Businesses and individuals may build websites that are not only aesthetically pleasing but also search engine optimized by implementing SEO principles throughout the web-building process, improving online visibility and increasing success.